We service ALL Point-of-Sale systems. STC can design your new POS system or repair your old system.
Give us a call at 843-831-0238 and leave your POS worries to us.

Restaurant Pro Express™ (RPE) is a touch screen restaurant point of sale (POS) system that provides fast operation, accurate order taking and detailed reports with an easy-to-use interface. Table service and fine dining restaurants, fast food establishments, coffee shops, pizza parlors, cafeterias and all other types of restaurants will find the features they need within Restaurant Pro Express™. pcAmerica's restaurant point of sale software has dozens of features in a package that is easy and affordable enough for independent restaurants and capable of sharing data between multiple restaurants. pcAmerica also offers Restaurant Pro Express™ Mobile for fast tableside ordering. Restaurant Pro Express™ Mobile makes placing orders and taking payment fast and simple using an Apple iPod touch® or iPhone®.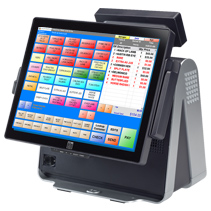 quick service pos info | table service pos info
view pos demo | request a pos quote
pos system requirements | tableside ordering
Easy
Restaurant Pro Express™ is the easiest restaurant POS system available. Train your servers in as little as 60 seconds to place orders and close out checks. The colorful touch-screen interface walks servers through each transaction, helping them place each order quickly and accurately. The POS responds how you think it will respond -- a factor that helped us win the # 1 spot for Ease of Use in the Hospitality Technology Magazine POS Scoreboard.
Fast
Fast order entry is critical in all types of restaurants. Quick service restaurants will see lines moving faster, resulting in happier customers and higher volume. Servers at table service and fine dining restaurants will spend less time inputting orders and more time helping your guests. Every second saved helps boost your profits. The Restaurant Pro Express™ point of sale system is designed to speed up the operations in your restaurant.
Organized
The kitchen is the busiest area in most restaurants. Errors in preparation can cost precious time, money and customer loyalty. Restaurant Pro Express™ prints orders clearly in the kitchen. Orders sent to the kitchen printer include each item ordered, the modifiers on the item (printed in red), an optional guest number and name on a large, easy to read printout that includes a unique order number, order time and name of the server. Faster paced, more demanding environments use RPE and a kitchen display system to speed service and enhance productivity by routing orders to the proper preparation areas, flagging tardy orders and displaying items as they are rung into the register.
Detailed
The detailed reports built into Restaurant Pro Express™ provide the numbers you need to help you make smart business decisions. Many restaurant owners know they are making money but don't have an accurate picture of how much profit they make or what factors of their business they can alter to increase that profit. Comprehensive sales reports help you determine how much money you're making. Reports that list your best and worst selling menu items, combined with a shopping List report that estimates ingredient usage based on the food ordered through your POS, will help you reduce your ingredient costs 1-5%. Labor per dollar hour comparison reports, tied to the built-in time clock, help you avoid costly overstaffing by analyzing how many dollars you earn per employee hour.